Our Services
FOR SHOPPING CENTRES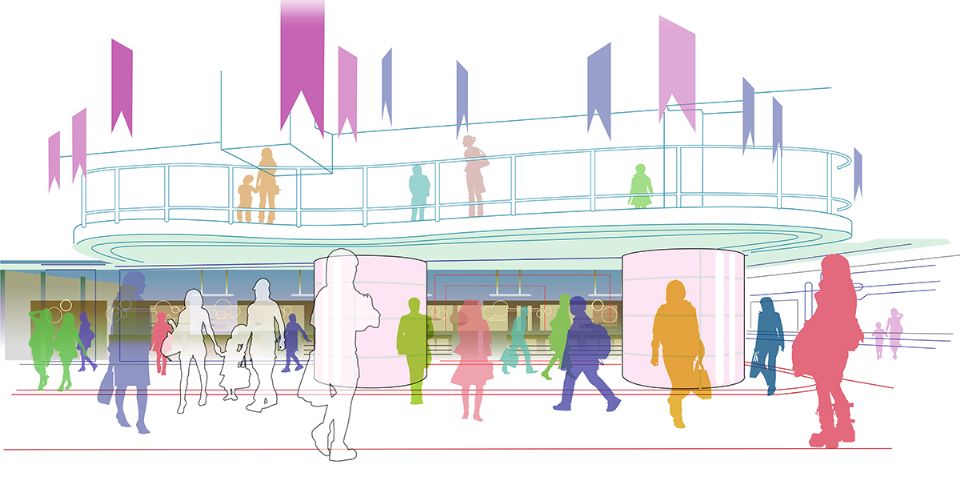 List of Services
Asset Reviews of Shopping Centres
Objective
---
To increase sales, customer attraction, business confidence and improve the customer experience so they return more frequently and spend more with the specialty retailers and major anchor tenants. Great for business planning, attracting new tenants or the operations department to improve the asset to make it better for the customers and take on the competition.
Outline
A full critique of the shopping environment and review of current design within the shopping centre and how the customer interacts with the entire asset. Identifying weak areas that may prohibit customers from shopping, sales or a positive experience.
Provide a series of solutions that significantly enhance retail capability & customer satisfaction within the centre
Enhanced retail design and format within the shopping centre to attract more customers to the space and further tenants
Review of the wayfinding and signage placement for maximum foot traffic to key avenues
Speak with shoppers and retailers on key issues that are considered barriers to the shopping experience
Identifying atmosphere, colour, lighting, design needs to meet the expectations shoppers within the centre
Review any marketing or promotions that are currently being conducted in the centre.
Provide contacts and cost effective solutions for proposed changes (budgets not included)
Review of the tenancy schedule
Optional extra – full marketing review for the owner
Area for review
All areas that the customers come into contact to while shopping within the centre this includes website, centre marketing, the signage, entrances, roads & access, internal signage, toilets, common areas, seating, key retail stores and exits and review of the tenancy mix.
Digital photos of all areas will be included in the digital report.
Prices based on GLA, location and tenants. Free Quote debra@boomretail.com.au
Tenant Development Program - Best Sales
Objective
---
To assist the tenants through the redevelopment your shopping Centre with consultancy on sales, promotions, marketing and instore presentation. This is done by providing practical advice, expertise and specialist skills with the aim of creating value, maximising growth or improving the business performance within their store.
Method
Discussion with centre management about tenants & key issues a week prior to the visit
1 – 2 hour consultancy with tenant (owner or floor manager)
Review of sales data
Action notes are written from instore review & consultancy. This is given to the tenant straight away.
3 "agreed action steps" are recorded
Quarterly follow up to increase business success
Tenant Development Training Program & One on One Visits
Objective
---
Providing regular assistance to retailers with training and one on one consultancy. A package will be created to suit the needs and size of your shopping centre.
Method
Tenant training on Visual Merchandising, Customer Service and Store
Layout is provided.
The tenants are invited to have free one on one consultancy session to improve sales, customer attraction or other.
The tenants agree to 3 action steps prior to the next visit.
Email notes are sent to Centre Management covering the key action steps.
Retail Consultancy
One on one session to provide actionable steps to improve sale performance. This includes buying, category management, visual merchandising, service, pricing and basic marketing are covered.
This depends on the key issues of the client. This is package service where multiple retailers are assisted over a 1 day period.
Shopping Centre Strategic Marketing & Advertising
Brand Strategies- Design and develop consistent brand strategies to translate your company brand into electronic and print and digital media, point of sale and effective storytelling.
Social Media- Manage content, design and strategy for social media channels. Create and develop direct online-presence strategy for optimisation.
Marketing Strategies- create and execute innovative marketing strategies to achieve business goals. Coordinate and manage cross-functional freelance teams of writers, graphic designers and photographers.
Retail Cycle Shopping Centre Strategies- Promotion designs to peak sale performance within the Centre in key categories due to the age of the asset.
Coaching- for new marketing staff to the shopping Centre industry
Special Projects - have a large project that needs some assistance? We are happy help.
Food Courts & National Food Tenants – design & sales
Food merchandising training for best practices (see below)
Visual Merchandising for cabinets & kiosks
How to use food colours & images for best sales
Large Foodcourt concept reviews for best sales for new development prior to approval of final design.
New concept review
Menu Baord Signage review
Food Merchandising for Fresh Food, Bakeries, Butchers, Cafes & Restaurants Training:
Maximise contrasts and sell by pleasing the customer's eye.
Learn the art of presentation behind glass cabinets
Understand international display methods
Review product mix and complimentary item placement on display.
Review overall signage including pricing and POP.
Review post-lunch procedure for maximum appeal.
Develop a retail planogram to guide unmonitored employees.
Props and merchandising container review.
Menu Board design
How to optimise communication zones with imagery and key offers to maximise sales
Tips on Menu design and layout secrets for profitability
A "hands on" class conducted in the evening with centre walk thru to discuss cabinets & displays.
Following day - one on one sessions with tenants that attended training.
Entertainment & Leisure Precincts – Better Sales
Providing consultancy on master planning concepts on Entertainment & Leisure precinct.
Does your project turn on the customer to spend their money within your environment?
Do you know what makes the customer enjoy the area and want to return?
The consultancy will be focused on providing the best experience for the customer.
Wayfinding & Signage - Best Foot Traffic
Need an audit of the current wayfinding system? Let Boom! Retail review the entire system and offer practical solutions prior to employing a signage company. This will assist with effective navigation for the customer and improve traffic flow to various areas. Understand what to communicate when and how much. This will save you thousands off your signage bill and get the right advice the right time around.
We will provide a full report and a simple excel sheet which is great for planning.
Special Projects in areas of marketing, casual leasing marketing, interior design or special events.