Clients & Testimonials
Boom Retail has worked with Shopping Centres, Centre Management teams, National retail owners, Hotel Groups, grocery chains, and retail chains, and large corporations for over 25 years. We have developed a consistent track record in improving performance, sales, customer experience and creating long-term relationships with our clients in Australia, New Zealand, USA, and Asia. Here is some of our customers over the years and reviews: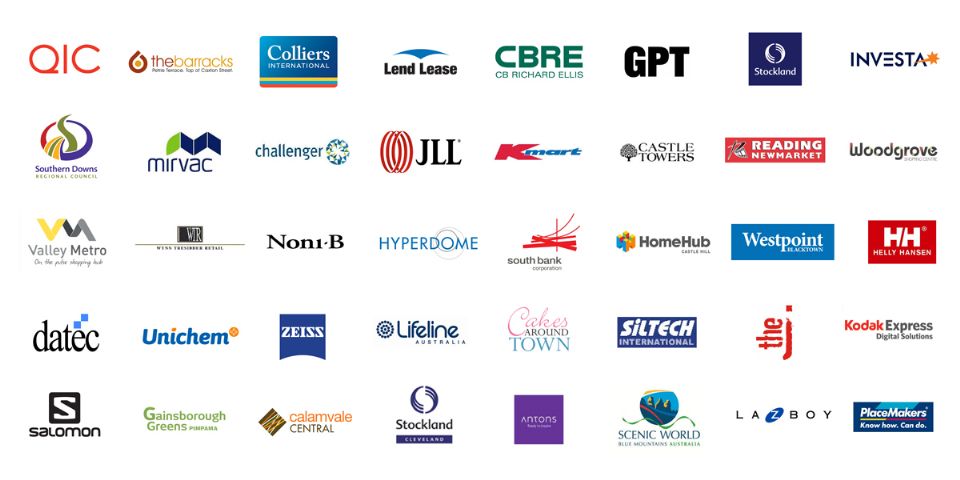 ---
SHOPPING CENTRES & PROPERTY COMPANIES
| | | |
| --- | --- | --- |
| QIC Head Office Marketing & Development | Greenbank Shopping Centre | Sydenam Mall Christchurch NSW |
| LaSalle Investments | Warwick QLD Council | Greenwood Plaza North Sydney NSW |
| Dexus Group | Stanthorpe Council Southern Downs | Neeta City Mall |
| Lend Lease Headoffice Sydney | Noosa Junction Noosa QLD | Thakral Holding Limited Sydney NSW |
| South Bank Corporation | Sunshine Grand Central Toowoomba | Westpoint Shopping Centre Blacktown NSW |
| Robina Town Centre | Garden City Toowoomba | Robina Town Centre Goldcoast QLD |
| Challenger Investments | Mirvac | Hyperdome Brisbane QLD |
| Jones Lange LaSalle | Rockhampton Coast Council | Westpoint Shopping Centre NSW |
| Property Solutions Pty Ltd | Castle Hill Supa Centre Sydney | Grand Central Toowoomba |
| Tweed City Tweed NSW | Home Hub Castle Hill Sydney | Bakehouse Quarter Sydney NSW |
| Stockland Burleigh Heads | Stafford Shopping Centre Retail First Group | Castle Towers Shopping Centre NSW |
| Stockland Cleveland | Brisbane Visitors Centre /Soutbank | Woodgrove Shopping Centre Victoria |
| Stockland Hervey Bay | St. Ives Shopping Centre QLD | Gardentown |
| Stockland Caloundra | Centre Point Tamworth | Noosa Junction Council |
| Big Top Shopping Centre | Business Enterprise Centre Ipswich Region Inc. | Showcase On The Beach Coolangatta QLD |
| Mirvac Real Estate | Avonhead Shopping Centre | Canberra Centre Canberra |
| AMP - Gasworks Plaza | Mount Gravatt The Village | Ipswich City Council - QLD |
| Hyperdome Shopping Centre | Centre Point | Vintagroup - Sydney NSW |
| McGees Property | Central Lakes | Rode Road Shopping Centre QLD |
| Investa Property Group | Barrington Shopping Centre Christchurch NZ | Capalaba Central Shopping Centre QLD |
| Marina Mirage QLD | Hyperdome Shopping Centre- Logan QLD | Channel Court Hobart Tasmania |
| Nundah Village Shopping Centre | Centre Place and Downtown Plaza | Bunbury Shopping Centre, Bunbury WA |
| Kippa Ring Shopping Centre | Coastland Shopping Centre | Arkadia Group - Westpoint Shopping Village QLD |
| Home Hub Castle Hill | Eastgate Shopping Centre Christchurch NZ | McConaghy Retail Pty Ltd |
| Westpoint Shopping Centre | Goldfields Shopping Centre NZ | Toowoomba Plaza and Toowooba Ridge |
| CBRE | Hamilton Central Hamilton NZ | Bunbury Forumn |
| Eastland - Melbourne | Hornsby Shopping Centre Christch NZ | Golden Grove Shopping Centre South Australia |
| Canberra Centre Canberra | Livingstone Property Limited | Aspley Village Brisbane QLD |
| Water Garden Melbourne | Merivale Mall Christchurch NZ | Charter HallThe Marketplace |
| Reading Newmarket QLD | North City | Ocean Village for Whistle Funds Mgt. |
| Calamvale Shopping Centre | Northlands Christchurch NZ | Calamvale Central |
| JLL Valley Metro | Goodna Shopping Centre QLD | Benowa Gardens Shopping Centre |
| The Barracks QLD | Palm Beach Plaza Papamoa NZ | Colliers International |
| Marketplace Gungahlin Canberra | Palm Shopping Centre | Domain Car Park Sydney |
| Woodgrove Shopping Centre VIC | The Plaza, Queensgate | Wesfarmers - Kmart Monee Ponds |
| Calamvale Marketplace QLD | Riccarton Shopping Centre Christchurch NZ | Rochedale Village |
| Benowa Gardens QLD | Richmond Mall Christchurch NZ | Centrepoint |
| Gasworks Newstead | Forest Lakes Shopping Centre QLD | Sanctuary Cove Marine Village QLD |
| Capalaba Central Shopping Centre QLD | Indooroopilly Shopping Centre QLD | MPG Funds Management |
| Golden Grove Shopping Centre | Bunbury Forumn Perth | Channel Court Tasmania |
| Challenger Investments Sydney NSW | Domain Car Park Sydney | Post Office Square QLD |
| QCCU Townsville | Goonellabah Village NSW | Exceed Capital Management |
| SSP Australia Group | Rocks Central NSW | Beaudesert Central QLD |
| Lendlease - Headoffice Bond Street Sydney | Mulpha International | Brisbane City Council |
| Marsden Park Shopping Centre | Minor DKL Food Group International | Riley Town Centre Holdings Pty Ltd |
| Bathurst City Centre, NSW | Big Top Shopping Centre | Wynnum Retail Group |
| Coles Group Property Developments | Exceed Capital Trust | FKP Commercial Developments |
| Ormeau Village Shopping Centre | Grand Central Toowoomba - QIC | AMP QLD Properties |
| | | |
---
BUSINESSES & RETAILERS
Helly Hanson – Texas Peak
Optical Express
Dragon Boat Chinese
La Z Boy Australia
Instyle Fashion
Seafood Hut
La Z Boy New Zealand
Pharmacy First
Pete's Cafe
Zeiss Adelaide
Broz Kebabs
Natabella Cafe
Datec – Papua New Guinea
Freechoice Tobbacco
Cinderalla Jewellery
Bathroom Warehouse
Payless Shoes
Cute2Boot
Noni B Fashions Head Office
Vision Extra
PMA
AALARA Conference
Westpac
Hardy's Vitamins
Pacific Retail Head Office
Woolworths Calamvale
Dolce Cafe
Sushi Tribe
Australian Dental Care
Readers R
Workers Wardrobe
Black Rock Surf
Il Cuore Resturant
Life Line Head Office
Calamvale Bakery
Noodel Xtra
Artland
St. George Bank
Leagues and Legends Sportwear
Darlin Gifts & Homewares Headoffice
Big Shotz Art Gallery
Modo Handbags
Essential Beauty Headoffice
Australian Red Cross Store
Builders Hardware
Pimpma Golf & Leisure
SPCA Pet Food Store
Janus Marketing
Jim's Jerky
Beeba Hair, Big Shotz
PlaceMakers
La-Z-Boy Headoffice & Conference
Bling n Stuff Gifts and Fashion
Westco
Anton's Headoffice QLD
Cash Converters
Kmart Head Office
O'Fish QLD
Coolangatt Newsagents
Noni B Limited
COZmedics Headoffice
Cooly Health
Nut Shack
Power Golf Castle Hill Sydney NSW
Esteems Fashion
Angus and Robertson
Power Play 3d Virtual Golf
Fashionnails
Elite Gifts
Yarrambat Pro & Cafe Vic
Night Owl Covencience Store
Swish Jewlez
Ascot Vale Leisure Centre Vic
Sole Integrity
Diva
Albany Creek Leisure Centre QLD
Sacred Threads
Newstalk
Melton Waves Leisure Centre Vic
Stage Struck Costumes
The Fresh Meal Company
Jamberoo Action Park NSW
Surf X Cess
Abode Gifts
Scenic World
Teez Hair
House
The Market Place Cafe Brisbane Airport
Temple Door
Price Attack
Allianz Bank
Vibe Hair
Loot Gifts
Queensland Country Credit Union
Blackjack Surf and Skate
The Pet Shop
Classic Treats Ice Cream Vans
Bond n Bond
Groove
Commonwealth Bank
Books and More
Bright Eyes
Gilberts Tree
Boots 'n' All
Colorado
Pennywise
CaveRock Bar
Cookie Man
Brisbane Colonscopy
Champions of the World Sports
Donut King
Bon Genre
Collsium Sports
EB Games
Costal Framing & Design
Design Fashions
Healthy Life
Kodak Group NZ
Dick Smith Electronics
Howard Storage World
NewsEpress Canberra
Distinctive Decor
Kenny's Cardiology
Texas Peak Group
Eastgate Pharmacy
Kmart Monne Ponds
Woodbury House NSW
Eliza Blue Hairdressing
News Xpress
Heavenly Interiors
Espresso Xcess
Pets Planet
Newsexpress Canberra
Fabriques on Eastgate
Crystal Seafood
Cakes Around Town
Fendalton Pharmacy
Terry White Chemist Hyperdome
Essential Beauty Stores
Four Paws Pet Pantry
Slice of Heaven
Bon Genre Gifts
Frangipani Florist
Baker's Choice
Middletons Fine Jewellery
Thames
Fellas Gifts
O'Fish Resturant
Gipzys Fashions
Pumpkin Patch Kids Wear
Cafe La Plaza
Golden Wok
Camera House Kodak Express
Terrica Place Newsagents
Goldfields Pharmacy
Chez Sandra Fashions
Robina Town Centre Newsagents
Goldfields Paper Plus
Gift Affair
Bargain Warehouse
Hanafins Photo and Print - Head Office
Nextra
Bon Genre Gifts
Hannahs
Relish Home and Gift
Burgo's Fruit Barn
Hardy Healthy Living
Tobacco Station Gifts
Simpsons Mitre 10 Noosa Junction
Henderson Shoes
Zarraffa's
Redland News
Herba Soma Vitamins
Bling N Stuff
Zelows Handbags
Laveni Clothing
Sole Integrity
Betta Electrical
Marion McKellow Jewellery
Body and Scents
Inspire Furniture
Maxims Fashion
Boo Boo's Fashions
Sapphire Wood
Mermaid Seafood
Da Point Surf
Enhance Furnishings
Minsky Lingerie
Esteems Fashions
Eurolight
New Zealand Breweries
Temple Door Imports
Floor Gallery
One-Way Books
Cargo Gifts
Freestone Meats
Pagani Fashions
Home Essentials
Lucky Charm Calamvale
Pak 'n' Save
Bay Audio Head Office
Boo Boo's Fashions
Paper Plus - Head Office
Muffin Break Hyperdome
Oasis Home and Gift
Plastic Wholesales
Stage Struck
Simpson's Mitre 10
Postie Plus
Oasis Gifts
The vault Jewellers
Quinns Fashion
Gym Funky
Minx and Max
Rangiora Chamber of Commerce
Kelli Daisy Designs Jewellery
Forget-me-Knots
Rangiora Florist
Elite Gifts, Swish
Paul Austin Jewellers
Rodney Wayne Hair
Game Traders
Pizza Capers Noosa
Ski 'n' Ski
Candy Time
Illusions Noosa, Lady Bird Noosa
Snow and Surf
Wild Gifts, Art Land Indooroopilly
News Express Canberra
Sterling Sports
Gardentown Newsagency
Saha Noosa Cafe
Sweet Temptations
GT Cavery
Carole Tretheway Design
T and T Childrens Wear
L-ements
Newton's Apple Puzzles and Games
Tahiti Pearl Dream
McCartney and Creed Shoes
Mofo Trading Co
Telecom Head Office
Pascoe Jewellers Gardentown
Noosa Pool and Spa Centre
Tips 'n' Toe
Shoe Rack
The Lucky Charm Newsagent Noosa
UniChem Pharmacies Head Office
Star Gardentown Cafe
Hostyle Clothing
Vodaphone Head Office
Tobacco Station
Computer Troubleshooters
Zecca Fashion Store
Go Sushi
I Cherry Shoe
$2 Shop, Champions of the World Sports
Get Fresh Fruit and Vegetables
Noosa Surf World
Christo Seafood
Bean and Beyond Coffee Robina
Robina Butcher
Dolce Cafe
Opportune Business Network
Cute 2 Boot
Gownings
Cafe Evropi Canberra
Le Trendy Coffee
Insight Decor - Sydney
The Teddy Bear Shop Canberra
Fresh n Fast, Dragon Boat Resturant
Jenny's Handbag
Slave to Luxury Gifts
Seafood Hut
Kleins Jewellery
Canberra Centre Foodcourt Redesign
Pete's Café
Modo Handbags
Blooming Valley Nursery
Pink Poppies Gift
Monograma
Fresh Food Company
Hot Copper Heating
Newstalk
Price Attack
Furniture One Stanthorpe
Price Attack
Maggie Drion Meditation
Stanthorpe Sports and Camping
Reader's Books
Echidna Acupuncture
Pure Heaven
Scenic World
Nutshack Melton
Goldstone Jewellers
Special Moments
Sellagence New Zealand
Gracious Giving
Relish
Wishbone Food
Out and About Fashions
Mr. Toys
Chaska - The Indian Addiction
DFA Tattoo & Piercing
Cookie Man
Sushi World
Maddie Gift Gallery
Gift Affair
Noodle Xtra
Rayner's Photographics
Wild Cards and Gifts
Dolce Espresso
Duggans Camera Centre
La Porchetta
IGA Supermarkets
Gazebo Fashions
Bright Eyes
Paddys Meats
Rose City Jewellers
Terry White Chemist
Capalaba Meats
Saddlery Supplies Store
Chez Sandra
Fusion
Presence on Palmerin
Le Gassick Collections
Coffee Moves
Glamorous Brides
Groove
Ollies Place
PRD Real Estate
Loot Homewares and Gift
Not Just Pies
Warwick Credit Union
Game Traders
Big W Tweed
My Optical
Cruise
Robins Kitchen
Hair Kreations
Ella Bache Hyperdome
The Bean Inn
Scenic World Retail
Howards Storage
Puzzling at Robina Town Centre
Albury Go Sushi
Chemart Pharamcy
Infinity hair
Loot Burleigh Heads
AMF Bowling
Kebab Heven
GoGo's Deli
Camera House
Pipeline Surf
Ever After Fashion
Nextra Newsagency
Wendys Ice Cream
Beacon Lighting
Candy Time
Bag Time
Casabalaca
OpportuneNet
Zellows handbags
TW Hairworks
Kurrajong Kitchens
Nextra Newsagent (multiple locations)
Ebony Salon
P Park Golf – Proshop and Bar
Nic Nax Discount Store
Pure Indulgence
Decorug and Rug City
Choice Variety
Beads and Beads
Black Stump Restaurants
Ed's PC
The Hat Store
Wynstan Blinds and Doors
Cost Cutters Discounts
Brimbank Go Sushi
Christo Seafoods
The Vintage Apron Cafe
Toowoomba Go Sushi
Essential Beauty
Terry White Chemist Capalaba
Choice Variety Discount Store
Insight Decor
The Tea Cup Cottage
Coffee Club Calamvale
Kirela
StockDales for Hair
LJ Jewellers
Smart Connection
Subway Capalaba
Troppos Fruit
Scenic World
Origin Kebabs
Cash Covertors Coolangatta
Australian Dissmal Services - Melbourne
Brand Adventure
Fresh n Fast Cafe
Le Trendy Coffee
Wrap Up Gifts
Sandwich Chefs
San Cove Chocolates
Cafe 19
OMG Hairdresser Hervey Bay
Orion Massage
Jin Japenese Resturant
Cherry Bean Cafe Pacific Fair
Cherry Bean Cafe Hyperdome
Eats of Asia - Toowoomba
Harry Jeans - San Cove
Gilbert Tree Gifts
Full of Life Organics Cafe
The Willow Tree Café
---
OTHER
World Gym Ipswich
Ripley Pharmacy
Madhouse Discount Store

William Manufacturing

Browns Plains Pennywise, Beenleigh Pennywise, Toowoomba Pennywise, Ipswich Pennywise, and Pennywise Head Office

Giant Pharmacy - Goldcoast
Eco Shot Cafe
Rochedale Medical Centre
Terry White Chemmart - Pacific Fair
Amcal Pharmacy Waipukurau
Queensland Country Credit Union
UniChem Pharmacy - Head Office
Amcal Pharmacy Waiuku
Alexanders Advertising
Amcal Bishopdale Pharmacy
Bruce Watt Photography
BIZ Print
Amcal Fruness Pharmacy
Camera and Digital Timaru
BNS Print
Amcal Coastlands Pharmacy
Donald Buckley Kodak Express
CACI Clinic
Brighton Pharmacy
Donald Buckley Kodak Express - Esk Street
Canterbury Asset Management Company
Colombo Street Pharmacy
Fuji Camera Store
Canterbury Development Corporation
Goldfields Pharmacy
Glenn Roberts Photo and Camera
Catalyst Property Limited
Halswell Pharmacy
Goulds
Christchurch Casino
Kiapoi Pharmacy
Hanafins Kodak Express Nelson
Colliers Jardine
Lenis Young Pharmacy
Hanafins
David Brown and Associates
Moore House Pharmacy
Photo and Print NZ
Greymouth District Council
Palm Beach Plaza Pharmacy
Happy Snappa
Grow Commerce
Te Aroha UniChem
Imageland
Hawridge Properties Limited
Amcal Cambridge
Kens Camera
K2 Skis
Chartwell UniChem Life Pharmacy
Kodak Head Office / Kodak Express
Kiwi Property Income
Blooms the Chemist
Munro/Burgess Kodak Express Pharmacy
Livingstones Properties
Paeroa Pharmacy
Network Camera
Maxims Fashion Stores
Vaughan Plaza Pharmacy
PMA
Millers Store Designers
Unichem Te Aroha Pharmacy and 100+ more
Picture Perfect
Richard Ellis
Geddes Pharmacy NSW
Positive Image
Salomon Ski Importers
Smileez
Satchi and Satchi Advertising
Leisure Centres & Golf Courses & Tourism
Snapshot
Sony
Classic Soft Serve Food Trucks Group
Speedi Color
Southway Properties
Ascot Vale Leisure Centre VIC
Wanganui Cameras
Wakefield Brass
Milton Waves Leisure Centre VIC
Whitianga Focus
2UE Radio
Yarrambat Pro Golf VIC
Blacktown Cameras
Il Cuore Italian Restaurant
Powergolf Castle Hill NSW
Fuji Golden Colour
Lend Lease
Gainsborough Green golf
Kaitaia Kodak Express
Opptoune Network for ARN Radio Clients
Jamberoo Action Park NSW
Spectrum Photos New Market
Queensland Investment Corporation
Scenic World Tourism NSW
Te Aroha Kodak Express
Siltech International
YHA Head Office - 52 hostel reviews
Lazer Photo
Brand Adventure
Belgravia Leisure Group VIC
Queenstown Fuji Colour Store
Smart Connection
Albany Creek Leisure Centre QLD
Kodak Express Queenstown
The Farm CAfe
YHA New Zealand - nationwide
Golden Colour Fuji Store
Jamberoo Action Park
---
Testimonials
"Working with the retailers of Tweed City over a number of years, Debra has built a great rapport and enthusiastic following amongst business owner and store managers. Presenting inspirational Visual Merchandising and seasonal sales material ensures full classes on each visit, while retailers are keen to book one-on-one sessions to have Debra visit in store with more targeted advice. Debra's service presents an excellent tool for centre management to assist stores who may be struggling with performance, and to further enhance businesses to maximise their turnover potential. I have always found Debra to be personable, professional and knowledgeable plus full of energy and enthusiasm for retail possibilities."
Megan White
Tweed City
Marketing Manager
---
"Debra was very flexible in working with a number of the retailers at Stockland Caloundra. We first held a merchandising workshop which received high participation, then one-on-one store consults with Debra. The feedback from the retailers is that they found Debra's advice refreshing and relevant to their individual stores. I can't wait to have her back!"
Rhyannon Preston
Stockland Marketing Manager
---
"I was fortunate to attend the 'workshop' at Anton's this week and although I am not a fan of these events, I owe Anton's a lot since the loss of my business in the floods and felt it was the right thing to do to support their events.
However, I have to admit I was very impressed with the presentation and took away a few pointers from the evening so I thought it would be appropriate to send a email of thanks. The information shared this week certainly showed me a couple of areas I can have a go at fixing on my own."
Thank you
Steve Rainbow
www.articulateframing.com.au
---
"I worked with Debra over a three year period. This involved reviewing our business practices with regards to the running of the 750 square metre souvenir shop & F&B. The business had become static and needed a new lease of life with regards to product selection/deletion, merchandising and the need to grow sales. The expertise and experience that she provided made it possible to address all the critical aspects of the business, by providing the tools to succeed and assisting in the implementation of key strategies. Feedback in the form of one on one meetings, emails and quarterly reporting were an important part of this process.
Our business saw large sales growth in key areas: unit sales, revenue and profit margins and we have created the platform towards continued growth which resulted us achieving store of year! we are thrilled."
Jeanette Curry
Product Manager
Scenic World Katoomba
---
"I had the pleasure of working with Debra when I was the Marketing Manager at Calamvale Central Shopping Centre. Debra took the time to understand the project and develop a strategic plan. She ran workshops as well as worked one-on-one with the retailers and the improvement in sales reflected the quality of her work.

Debra is a delight to work with, her positivity is infectious and the knowledge and advice that she provided was above and beyond expectations."
Service Category: Business Retail Consultant
Year first hired: 2009
Top Qualities: Great Results, Personable, Expert"
Lisa Pisasale
Marketing Manager
---
"Donald Buckley Photographic stores" have used Debra from Boom for the last 3 ½ years and during that time, she has been an enormous help in changing and improving our stores. We have been amazed at how her simple and straight forward ways of merchandising have had such positive results. Debra understands the needs to work within a budget and has given us great, cost-effective ways of making changes that don't break the bank.
The difference in sales was almost instant, and her positive and enthusiastic manner is contagious, even with the most resistant of staff. Actioning the changes Debra has suggested, resulted in a much huge increases to our bottom line as well as playing a significant part in two of our stores tying for the top honour of NZ Kodak Express Store of the Year.
In today's highly competitive retail marketplace, her ongoing willingness to offer advice after she has visited and positive feedback is very unique – anyone who has the opportunity of working with Debra should grab it with both hands – it could be the best retail move you will ever make!"
Joanne Hall
Director
DONALD BUCKLEY PHOTOGRAPHICS
Kodak Express Store of the Year